Penname:
anythingzombie [
Contact
]
Real name:
Brittany
Member Since:
17 Feb 2010
Membership status:
Member
Bio:
Boosh.
[
Report This
]
Stories by anythingzombie
Something Special
by
anythingzombie
Rated:
T
[
Reviews
-
6
]
Summary:
Everything was fine until she stopped swinging in my backyard. I had to go to her. I had to be her friend. I just never thought love would factor in. For the 'When Love Was New' contest.
"Wh-what happened to Jacob?" I asked, angry at him.
She stopped everything she was doing and stared at the wall in front of her, not really seeing it.
"Dead, I think," she whispered. Moisture formed in her eyes and she set her lunch down, pulling her arms around her. A small cry broke through her stiff lips and I wrapped my arms around her without any thought.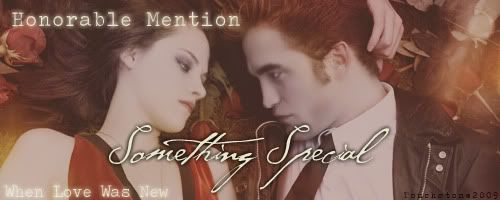 Categories:
Canon Pairings
,
Twilight
,
All Human
,
Alternate Universe
Characters:
Bella/Edward
Genre:
None
Language:
None
TWCS Romance Contest:
None
Series:
None
Chapters:
1
Table of Contents
Completed:
Yes
Word count:
11258
Read Count:
228
[Report This] Published:
17 Feb 2010
Updated:
17 Feb 2010