Penname:
AMayes [
Contact
]
Real name:
Yuri
Member Since:
18 Feb 2010
Membership status:
Member
Bio:
I love Twilight. So much that I started writing about it. My fics are the results of much frantic typing.
I am originally from Canada and currently living in Australia. I miss the snow and the Rockies!
I hope you enjoy these stories of mine!
[
Report This
]
Stories by AMayes
These Arms of Mine
by
AMayes
Rated:
T
[
Reviews
-
4
]
Summary: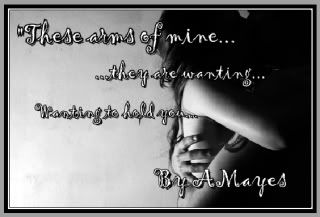 Set in high school. Friends since childhood, Edward has always loved Bella. When he finally musters the courage to tell her how he feels the result is unexpected.
Categories:
Twilight
,
Canon Pairings
,
All Human
Characters:
Bella/Edward
Genre:
None
Language:
None
TWCS Romance Contest:
None
Series:
None
Chapters:
1
Table of Contents
Completed:
Yes
Word count:
7431
Read Count:
776
[Report This] Published:
17 Mar 2010
Updated:
17 Mar 2010