Penname:
jtmd24 [
Contact
]
Real name:
Tara
Member Since:
02 Jun 2011
Membership status:
Member
Bio:
I am a full time working mom of 2, blissfully married to my high school sweetheart. I am addicted to all things Twilight and Twilight fanfic.
I'm very sarcastic and I swear like a truck driver. I'm extremely open and honest and will answer any question that is thrown out at me. I think I'm the funniest person I've ever known and all of my BFF's I met online. True story.
[
Report This
]
Stories by jtmd24
Just Breathe
by
jtmd24
Rated:
NC-17
[
Reviews
-
87
]
Summary:
What happens when the man you've loved for 6 years starts to change right before your eyes? Bella is forced to question her heart when the black sheep of the family returns. In the end, will she put her trust in the right person?
Categories:
Twilight
,
Canon Pairings
,
Alternate Universe
Characters:
Bella/Edward
Genre:
Drama
,
Romance
Language:
English
TWCS Romance Contest:
None
Series:
None
Chapters:
27
Table of Contents
Completed:
Yes
Word count:
106360
Read Count:
20000
[Report This] Published:
02 Jun 2011
Updated:
07 Jul 2011
Blame It On The Alcohol
by
jtmd24
Rated:
M
[
Reviews
-
10
]
Summary:
After a night out with friends, Bella wakes up with a raging case of WTF did I do last night? Might as well blame it on the alcohol because really, what else can you blame your stupidity on? O/S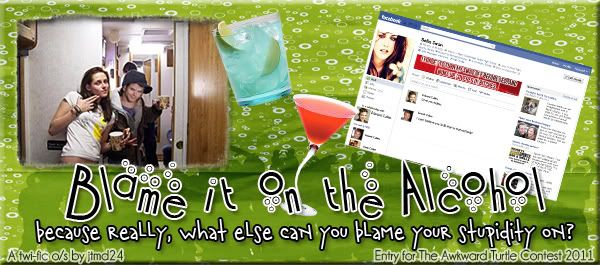 Banner by the awesomely talented vajanet
Categories:
Canon Pairings
,
Twilight
,
All Human
Characters:
Bella/Edward
Genre:
Humor
Language:
English
TWCS Romance Contest:
None
Series:
None
Chapters:
1
Table of Contents
Completed:
Yes
Word count:
3364
Read Count:
917
[Report This] Published:
02 Jun 2011
Updated:
02 Jun 2011