Penname:
jessicanov201 [
Contact
]
Real name:
Jessica
Member Since:
03 Mar 2011
Membership status:
Member
Bio:
So, i love Twilight, and to write, and I love combining them both. I work from home, and i'm married to the best man ever. We have 2 amazing kids and life is good. You can also find me on FF under the name ladycullen1.
[
Report This
]
Stories by jessicanov201
Rain
by
jessicanov201
Rated:
NC-17
[
Reviews
-
2
]
Summary:
Bella and Edward are high school sweethearts. What happens when they both believe the other has cheated? Can they make it past the lies? That is if the lies aren't true.
Warnings and Disclaimers: rated for strong language and lemons. All recognizable characters are the property of their owners, and that is not me. No copyright in fragment is intended.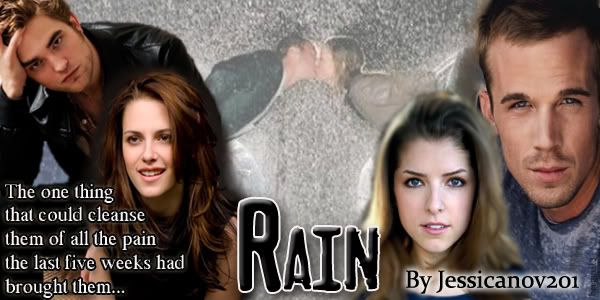 Categories:
Canon Pairings
,
Twilight
Characters:
Bella/Edward
Genre:
Drama
Language:
English
TWCS Romance Contest:
None
Series:
Drive's Stories to read that are Completed and Not completed
Chapters:
1
Table of Contents
Completed:
Yes
Word count:
7125
Read Count:
839
[Report This] Published:
19 Apr 2012
Updated:
19 Apr 2012
Love Will Bring You Back
by
jessicanov201
Rated:
NC-17
[
Reviews
-
182
]
Summary:
Edward left Bella the day after he makes love to her for the first time. Join Bella on her journey of love, laughter, pain and tears. Will love be enough to bring him back? Will the love of his baby be enough?
Warning: at times there will be lemons and language. Bella will be unsure of herself, she will doubt herself. Edward will be an ass at times, but this is life and life is not always pretty. Will love really be enough?
Categories:
Twilight
,
Canon Pairings
Characters:
Bella/Edward
Genre:
Romance
Language:
English
TWCS Romance Contest:
None
Series:
Drive's Stories to read that are Completed and Not completed
Chapters:
22
Table of Contents
Completed:
Yes
Word count:
72137
Read Count:
32794
[Report This] Published:
06 May 2011
Updated:
25 Sep 2011