Penname:
belli486 [
Contact
]
Real name:
Bev
Member Since:
06 Apr 2010
Membership status:
Member
Bio:
Follow Me On Twitter: http://twitter.com/belli486
TLC is also on Twilighted: http://www.twilighted.net/viewstory.php?sid=7467
I AM ALSO NOW ON TWCS!!
I became a Twilight fan very late in the game because I'm older and it just wasn't on my radar. However, my daughter had read the books and her synopsis of the story got me hooked. Then I discovered fanfic.net and the rest, as they say is history. My children (1 daughter, 2 sons) say I am obsessed with Twilight and Fanfic. They are embarassed that I like something that only they should like. The horror!
I have been in awe of some of the writers on this forum. I am honored to be among you.
I live in the Florida Panhandle.
I love reading, writing, music and movies. I'm just a media freak, okay.
My husband calls me artsy, fartsy because he is so not. He is all about his three mistresses: golf, basketball, and football.
If I could quit my day job in state government, I would do it in a heartbeat and write all the time. But if I did that, my husband might divorce me, so I guess I'll just do it part time until I publish something original.
[
Report This
]
Stories by belli486
TRUST, LOYALTY, COMMITMENT
by
belli486
Rated:
NC-17
[
Reviews
-
160
]
Summary:
Bella, the beautiful, bi-racial, Director of her church's Afterschool Program, has been faithful to her commitment to remain a virgin until she is married. Tallahassee Police Officer, Edward Cullen's charm and sex appeal severely challenges her resolve. AU/AH Rated NC-17 Adult Content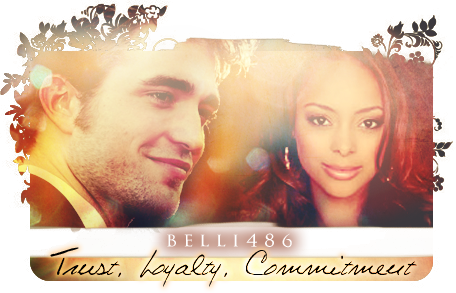 Categories:
Canon Pairings
,
Twilight
,
All Human
Characters:
Bella/Edward
Genre:
None
Language:
None
TWCS Romance Contest:
None
Series:
None
Chapters:
39
Table of Contents
Completed:
Yes
Word count:
242523
Read Count:
15889
[Report This] Published:
06 Apr 2010
Updated:
08 Dec 2011