Member Since:
24 Jan 2010
Membership status:
Administrator
Bio:
~ I am prepared to meet anyone, but whether anyone is prepared for the great ordeal of meeting me is another matter ~
ABOUT ME:
I read. I write. I yell at people a lot. I rarely get enough sleep, and I survive primarily on caffeine and nicotine. I'm horribly anti-social and generally avoid people, but I make an exception for bloodofbeckie, whom I love like you wouldn't believe.
WHO I AM IN THE FANDOM:
I'm an admin here at TWCS, where I host fanfic contests and run around looking for stories to feature. I'm also an admin/beta/site designer at SparklyRedPen, a fantastic new beta service for the Twi-fandom. And when I'm not sleeping, I'm running a little site I own, TwiFic Central, a complete guide to what's going on in the Twific fandom.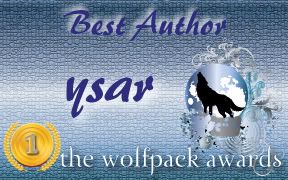 [
Report This
]
Reviews by ysar
No results found.