Hot Harleys and Cool Vampires
by
petersgirl
Rated:
M
[
Reviews
-
245
]
Summary:
---
Thank you to everyone that voted for my Jackson and my Emmett!!!! petersgirl loves ya!!!

---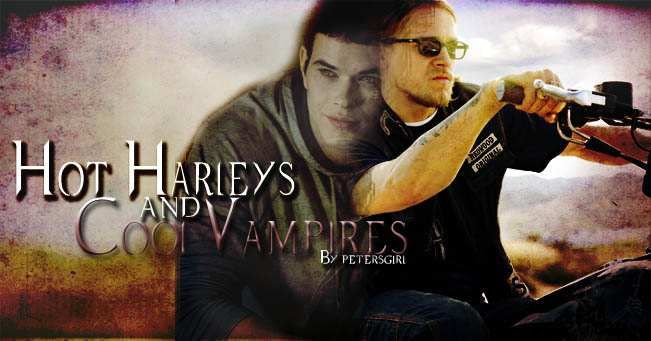 THIS AWESOME BANNER WAS CREATED BY ELLIE WOLF. SHE IS SO TALENTED AND A SWEEHEART!!!! A HUGE THANK YOU TO YOU DOLL!!!
---
A really good friend of mine and a talented artist Megs (Mmismpy09) made this for me!!!!!!!!!!!!!!!!!!!!!!!!!! Love ya Doll!!!!
---
---
After Edward leaves Bella is sent to live with her Mom. Phil signed on to another baseball team and they end up in Charming, Ca. Bella learns that it's not only vampires that are dangerous when she meets Jackson Teller, Sons of Anarchy, SAMCRO. Jaxs teaches her a lot about real life. The Cullens want back in her life, but Jaxs is a part of that now and things get complicated. They will be in their true forms of bikers and vampires.
Categories:
Sons of Anarchy
,
Twilight
,
Crossover
Characters:
Bella/Jax
Genre:
Action
,
Adventure
,
Drama
,
Fantasy
,
Hurt/Comfort,
,
Romance
,
Supernatural
Language:
English
TWCS Romance Contest:
None
Challenges:
The Right Kind of Wrong
Series:
Drive's Stories to read that are Completed and Not completed
Chapters:
32
Table of Contents
Completed:
Yes
Word count:
159233
Read Count:
26646
[Report This] Published:
15 Jun 2012
Updated:
29 May 2018
[Report This] Published:
27 Oct 2013
Updated:
04 Oct 2014