Challenges
Summary:
bella ist fast wie ein kind edwart
Categories:
Twilight
Characters:
None
Summary:
Anything goes!!!!2 Daddies, Jasper who accidentally says daddy during sex against Edward, edward that Bella punishes because she has been naughty ...Let your imagination go

Categories:
None
Characters:
None
Summary:
Bella is a dancer, Edward is a musician/ dancer/ artist in some capacity. Edward has been hurt ( mentally, physically, doesn't matter) Bella wants to fix him.
I can't give anything but a thank you and a good job, but I would really like to read a story like this.
Categories:
Twilight
Characters:
None
Summary:
I'm a huge fan of the dark side of the Cullen Family, especially Edward. I've been looking for months for something good, but haven't been able to find any and when I do find good ones, they get taken off of the sites. That's why I'm asking for you best Dark Edward/Cullens fics. Unfortunately, I have no prizes to offer, but you will have my appreciation and reviews. There are no rules or guidlines for this. It can be any length or rating. It can be vampires or all human, just as long as our favorite family is dark.
Categories:
Twilight
Characters:
None
Summary:
Bella is dominated by one or more people in the Cullen family, outside of a BDSM lifestyle.
Rules
No vampires
No character death
No bestiality
No pedophilia
No bloodplay
Categories:
Twilight
Characters:
None
Summary: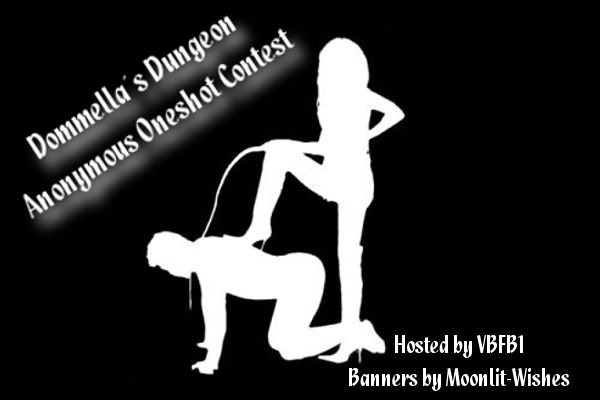 ***NEW DATES SUBMISSION EXTENDED***
What is it we're looking for, you ask?
Dommella, Dommella and more Dommella.
Love a Bella who is strong, knows how to put a man in his place and loves herself some BDSM. Then this is the contest for you.
Wether Bella is in a 24/7 Domme/sub relationship or just playing with random subs it is completely up to you.
So, what are the rules?
-Contest is open to all pairings. Bella however MUST be the Domme.
-No rape, incest, pedophilia or excessive drug use will be allowed.
-Entries can be all human or include vampires.
-Any rating will be accepted.
-Entries can be collaborations or a solo entry.
-All entries must be between 2,000 and 10,000 words, maximum of two entries per person/collab team.
-Entries must be an one-shot that must be a standalone original story. It cannot already have been published somewhere else.
-Entries cannot be continued until AFTER the contest is over.
-Because the contest is anonymous, please no Author's Note's. I'm sure your Beta(s) will understand and you can add them after the contest is over when you post the story to your own account.
-Once you have submitted your story, no changes can be made.
-Entrants may promote the contest itself, but not their own story. Stories may not be posted anywhere but the Dommella's Dungeon Anonymous One-shot Contest profile FF.net page until the winners have been announced. Entrants deviating from this rule, including posting teasers, will be disqualified and their story removed from the contest. We're operating on the honor system, so let's be fair and follow the rules.
-Please have your story beta'd. Stories will be validated for spelling and grammar, and if the story does not pass validation, it will be returned to you. You will, however, be welcome to resubmit it with corrections to spelling or grammar. If you wish to obtain a beta and do not already have one, we strongly recommend you check out Project Team Beta.
Submitting Your Story:
All entries must be submitted via email to dommellasdungeon@hotmail.com by October 31st, 2010. Although this contest is anonymous, all entries must be submitted with the following heading, which will removed by the admin prior to posting:
Dommella's Dungeon Contest
Pen Name:
Link to FFnet Account:
Twitter Link:
Pairing if Applicable:
Title:
Disclaimer:
Brief FF.net Summary:
All entries will appear as a separate story on the Dommella's Dungeon Anonymous one-shot Contest FanFiction profile page.
http://www.fanfiction.net/~dommellasdungeon

Judges, Winners, & Prizes:
Entries will be accepted from October 1st to November 14th 11:59 EST

ALL STORIES WILL BE POSTED to the Dommella's dungeon FF profile By the 16th of November
November 17th – December 1st – Public Voting (Regardless of how many stories are submitted & accepted, we will only have one round of public voting.)
December 8th – Winners Announced at the Dommella's Dungeon FanFiction Profile and http://dommellasdungeon.blogspot.com/
There will be 3 winners (1st, 2nd, and 3rd place) decided by a public vote.
Also a Judge's Overall Winner as well as some honourable mentions and judges favourites.
1st Place from the Public vote and the Judges overall Winner will be featured on the Fictionators within a week of Announcement.
Judges:
vbfb1
Lori94
rbsschess
darichenowith
Krazyk85
Please find below the links to the two awesome Banners for this comp designed by Moonlit-wishes
http://i1212.photobucket.com/albums/cc443/vbfb19/domduncontest.jpg
http://i1212.photobucket.com/albums/cc443/vbfb19/Dommellascontest.jpg
Check out Moonlit-wishes Blog at http://moonlit-banners.blogspot.com/ She does awesome banners.
Categories:
Twilight
Characters:
None
Summary:
Summary:
The rules are as followed.
1) Has to be a marriage story. It's a new law. - It could be anyone that made this law, like Dumbledore or Voldemort. Be Creatived with it
2) Over 2000 words in each chapter.
3) Draco and Hermione Pairing
4) Other characters are Ron, Harry, Ginny, Lavender, Blaise, Theo, Pansy, Luna, Neville, All the professors, Death eaters, Voldemort. –If you want to make has mant of your own characters just as long as they do have a purpose.
5) For chapters needs to be around 30 to 40.
6) Setting is at Hogwarts, either in sixth year or Seventh year.
7) Hermione is pregnant with twins
8) For the rating it has to bethe highest one on this site.
9) Also Draco needs to be asshole of the first couple or few chapters.
10) Prologue or a Epilogue can be included but won't count as a chapter
11) Hermione/Draco's wedding night lemon scene is a rape scene but after that is all willing.
12) Needs to have a major twist near the end and a major death [like Ron or someone]
13) Sequels are allowed too.
Categories:
Harry Potter
Characters:
None